We first came across Gretchen on instagram, after seeing she had made a dreamy rainbow jumper using only yarn scraps and our free sweater patterns. A girl after our own heart, we asked her a few questions about knit, crochet, life and more.
What do you make?
Hello, I'm Gretchen from Koselig! I started my business by selling crocheted toques in a couple of local stores and have gone on to attend markets with my fave market pal, my dad, who sells books at the same table. What I enjoy most though is making clothing and upcycled yarn projects. In September I challenged myself to wear a piece of handmade clothing at least once every two days to encourage myself to focus on designing more items. If you're thinking, hey, that's what I need to do, you can find the challenge and participate by using #handmadeclothingchallenge on your Instagram posts. Now from replacing so many of my clothes with handmade ones, I am able to make yarn out of my former T-shirts, so nothing is wasted. I also make a variety of stuffed animals, scarves, and accessories that I have written patterns for.
Where are you from and where do you live now?
Oh ya know, bud, I'm from Canada, eh! Ha-ha, jokes aside I was born in Abbotsford, BC, where I lived for quite some time. For the last five-ish years I've been living in Kimberley . . . also in BC. My family moved to Kimberley to be closer to our relatives, who were already there plus some who came from Norway. All my Norwegian cousins knew how to knit, so it was only a matter of time before I began doing the same. My oldest cousin has even tested one of my patterns! I had crocheted a "scarf" (I use quotations, because it was so thin and short it could hardly be considered one) when I was about seven years old, and finally decided to give it another try. After all, my hats needed some crochet flowers!
What's your favourite fibre to work with?
I use cottons often, but one of my favourite fibres is angora. It is the softest thing ever! I found a tiny ball of it (smaller than my fist) for 75 cents at a thrift store. The only thing I have used it for so far is the embroidery on the front of a stuffed animal (to make it cozy to cuddle with). I keep the rest in my drawer just to touch sometimes. Again, it's crazy soft!
How do you think craft can change the world?
I absolutely love this question. I think craft can change the world, because it teaches compassion and communication. Since I started teaching workshops and writing patterns, I have become better at articulating what I want to say and have become more patient and adaptable to people's learning styles. Plus, I am more conscious of waste. I mean, just look at my rainbow sweater; it's made out of scraps that, when I first learned to knit, I would've just thrown in the trash. I'm also a better shopper in the sense that I am more conscious of the time and energy that goes into the things that I buy. I try to buy from a small business when I can afford it.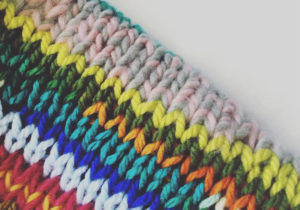 What inspires you?
A lot of what inspires me is books and television shows. I hardly watch TV, but about three times a week my parents and I watch the 1970s classic Mary Tyler Moore Show together. I'm always inspired by Mary, Georgette, and Rhoda's outfits. Books like Anne of Green Gables and Little Women–some of my favourite books–inspire me to try live a simple and cozy lifestyle. They also remind me how I can't take anything for granted. My dad (or Papa, as I call him) is a big inspiration to me too, because he is self-employed, which is my goal one day. As I said, he is my market partner and has helped me a lot behind the scenes of my business.
Knit or crochet?
Oooh, I'm going to have to go with crochet. It's a toughie though. I like how easy it is to undo stitches and not wreck your project while crocheting. It's a lot more flexible for someone like me who is always experimenting. I also don't have to deal with broken circular-needle cables with crochet!
What's your favourite thing about being part of the Gang?
My favourite thing about being in the Gang is the support. Everybody is so encouraging. It's nice knowing that everyone is where they are, because they've had the same struggles as me. Nobody is hating on anyone else, because they know how long and hard the whole process can be. That's not to say there isn't criticism. But what maker doesn't want a bit of constructive criticism to give them a boost? I think the Gang is one of the best communities a young small-business owner like myself can be thrown into.
Animal or vegan fibres?
Yes, I know I said that angora is my favourite fibre, but that doesn't mean "animal fibres" is my answer. As much as I love being able to felt animal fibres, certain wools leave me with sneezing attacks. Not all wools, but you know the ones where you can see all the particles being flung into the air as you knit? I'm going to have to go with vegan.
Who is your crafting crush?
This one is easy for me. I'm going to have to say Mindy from Tales of Butterflies. She combines crochet, sewing, and embroidery and I absolutely love it! I only discovered her quite recently, but everything she makes is something I'd add to my wardrobe. As soon as I find time for some "selfish projects," her shop is the first place I'm going pattern shopping! I also just found her drawing account and dang, she's a great artist.
And finally, if you were going to be stranded on a desert island what would your luxury item be?
Okay, I have thought about this lots and it might sound a bit strange–not as extreme as one of Dwight Shrute's (The Office) diabolical plans–but hear me out: I would bring the world's largest picnic blanket. I thought about saying yarn, but then I realised I would need a LOT of yarn to sustain me. My plan with the blanket, because it's about 3.5 acres and only growing, would be to cut (or rip, I'm not sure how primitive my other tools would be) up a portion of the fabric to make myself a hammock, a nifty tent, plus some other fun stuff. Then I would save enough of it so that I could make it into a TON of "T-shirt yarn" or in this case, "picnic blanket" yarn. Also, then if a helicopter or plane flew over, they would be more likely to spot the blanket and save me.
Want to find out more? Head to Gretchen's website here.