Crochet Queen Katie Jones was kind enough to guest host a workshop at our Earth Day pop up shop earlier in the year. While she was there, we couldn't resist asking her a few questions….. enjoy!
What do you make?
Hiya, I'm Katie Jones and I'm a crochet designer.
Where are you from and where do you live now?
I'm from near Brighton, and now I live in Stratford in London
What's your favourite fibre to work with?
My favourite fibre to work with is the ones I already have, I try to use up my scraps as much as possible, but I do love Tina Tape yarn.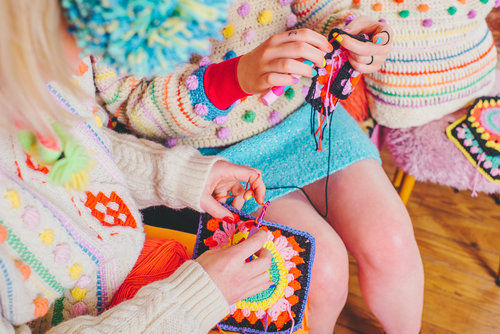 How do you think craft can change the world?
I think craftings a really really important tool and I think it can change the world because we have such a connection with what we've made and also I just think we hold onto stuff more because we have a personal attachment to it.
What inspires you?
I tried to find inspiration in a lot of things, everyday things, but art is something I'm drawn to because I love colour and texture and pattern, so I love immersing myself in a gallery.
Knit or crochet?
Well, contrary to my insta handle which is @katiejonesknit, it's always crochet.
What's your favourite thing about being part of the Gang?
I love being part of the gang and this sort of crafting community because it's so amazing to share your makes with other people, sharing skills, and it's just a really good thing to bond over.
Who is your crafting crush?
My crafting crush and queen of who I love is Jane Eakin. She's an australian knitwear designer. Anything she does I just think is amazing.
And finally, if you were going to be stranded on a desert island what would your luxury item be?
My desert island item would be some factor 50 because this skin is far too pale to be stranded without it!