Patrick McDowell is a British designer, born and raised in Liverpool until he moved to London to study at the prestigious Central Saint Martins School of Art and Design. His graduate collection was sponsored by the British Fashion Council, Swarovski, Burberry and Oakley and graced the cover of ELLE Magazine, as well as being featured in Dazed, Vogue Italia and L'Officiel USA. Now, at only 24 years old, McDowell has launched his namesake label with sustainable practice at the brand's core.
Patrick exclusively designed the 'Burn Baby Burn' sweater kit for the gang, using our signature Crazy Sexy Wool. Inspired by a family legacy of firefighters, the sweater is an ode to all the strong women in Patrick's life.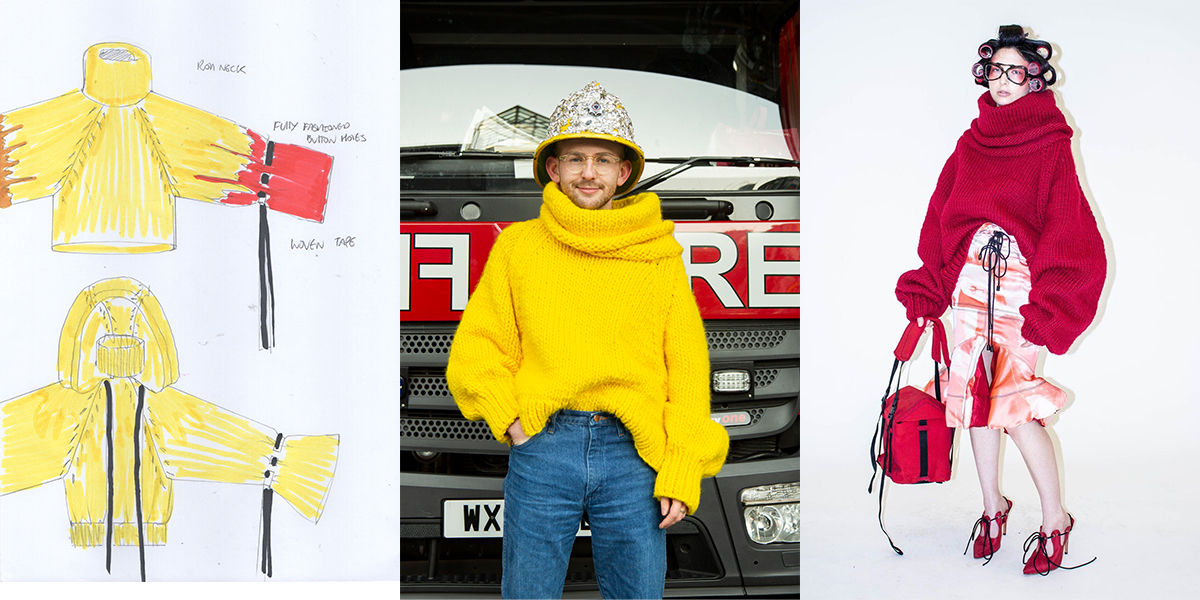 What was the inspiration behind the kit you've designed for us?
A jumper my mum wore at Christmas when I was a child , it was made from velvet yarn in a deep Christmas red. It was so big we could both wear it!
Why did you choose to use wool?
Wool is one of the most ancient fibres used for clothing, it is biodegradable and THIS wool is made with sustainable farmer collectives that treat the human hands (and the sheep hooves – do they have hooves?) with respect.
What would you style it with?
I would wear with Jeans for a casual OOO look or for my fashion show we did a pencil skirt printed with my family photos and red high heels.
Are you a crafty person and what are your favourite things to make?
I love making things, my favourite things to make are bags and anything covered in up-cycled Swarovski crystals – I'm obsessed.
Do you think crafts and traditional techniques are on the rise as an antidote to 'fast fashion'?
Yes, also its mentally calming to make and create. Knitting is a great example, understanding the craft behind your clothing is so important to respecting what you wear.
How is sustainability woven into the story of your brand?
Imagine my brand is a fish and sustainability is water – it has to be part of everything you do otherwise is it truly sustainable? We all fall out of the water sometimes but by working together we can ensure that we all stay in the ocean together.
What inspired you to start your own brand?
I knew that how the industry worked was harmful to the people and the planet. I wanted to try something new, I've never been very conventional so It doesn't surprise me that it happened.
What do you think will be the biggest change in the fashion industry in the future?
System change, a move away from Wholesale and the growth of second hand, rental and made to order.
Which other sustainably-focused designers do you admire?
Phoebe English, my beautiful boyfriend Boy Kloves and Stella McCartney for paving the way.