A few weeks ago we were lucky enough to visit ex-Vogue Fashion Editor Lucinda Chambers at her home in West London. Since leaving the iconic magazine Lucinda has co-founded two companies, womenswear brand Colville and online retail platform Collagerie. We popped by, armed with an excessive amount of knits in true Wool and the Gang style, to talk about our new collection and learn all about her latest ventures.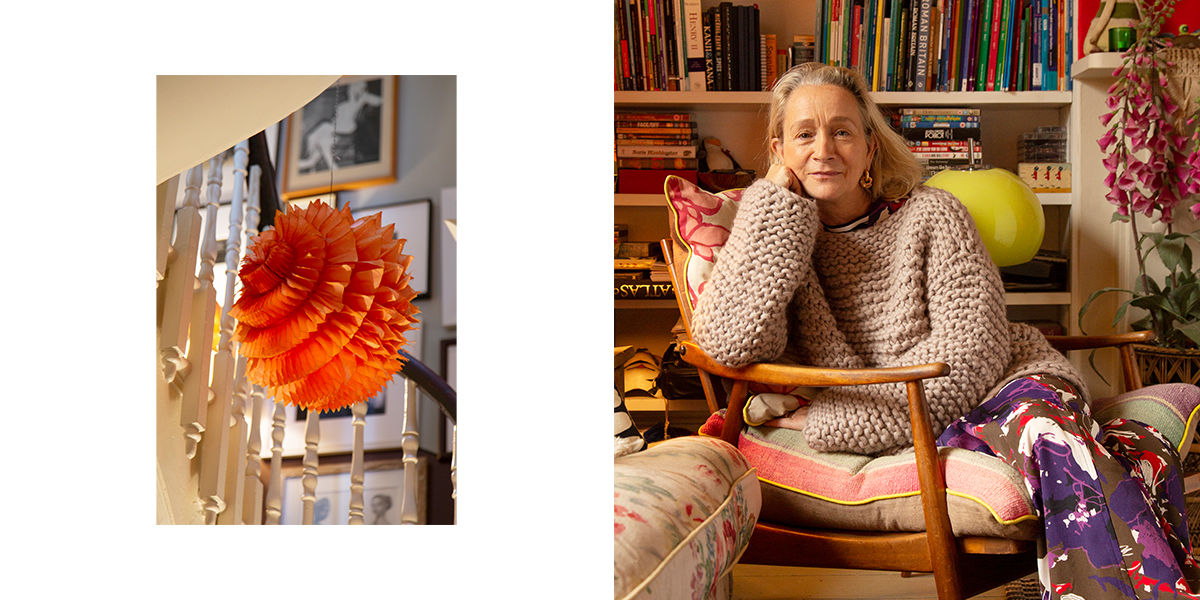 (left) An impressive paper lampshade at Lucinda's house of treasures, (right) Lucinda in the Dreamin' Sweater and a Colville dress
It's a crisp Autumn morning when we pull up outside Lucinda's house. We're busy hauling jumpers out of the boot of our uber when Lucinda strides over with her dog Digby. They're returning from their morning walk, and as we try to compose ourselves Lucinda offers us coffee, let's us pet her pup and helps us carry the clothes indoors. She is so warm and open from the moment we meet her, we feel like we've known her forever.
As we go through the door, we step foot into a real life Aladdin's cave. Colour, texture and life cover every inch of Lucinda's house. There are little crochet coasters from Morocco, a lampshade she made out of hair bands from Portobello market and postcards from Mario Testino and Dolce & Gabbana on the walls. Lucinda puts the kettle on as we settle in to her kitchen, and talks us through her latest DIY project; making glasses and candle holders out of old wine bottles. She's bought a 'contraption online' that cuts the glass, which she then sands down to make perfect green tumblers. Lucinda is so down to earth, warm and inviting that we almost forget we're in the presence of fashion royalty.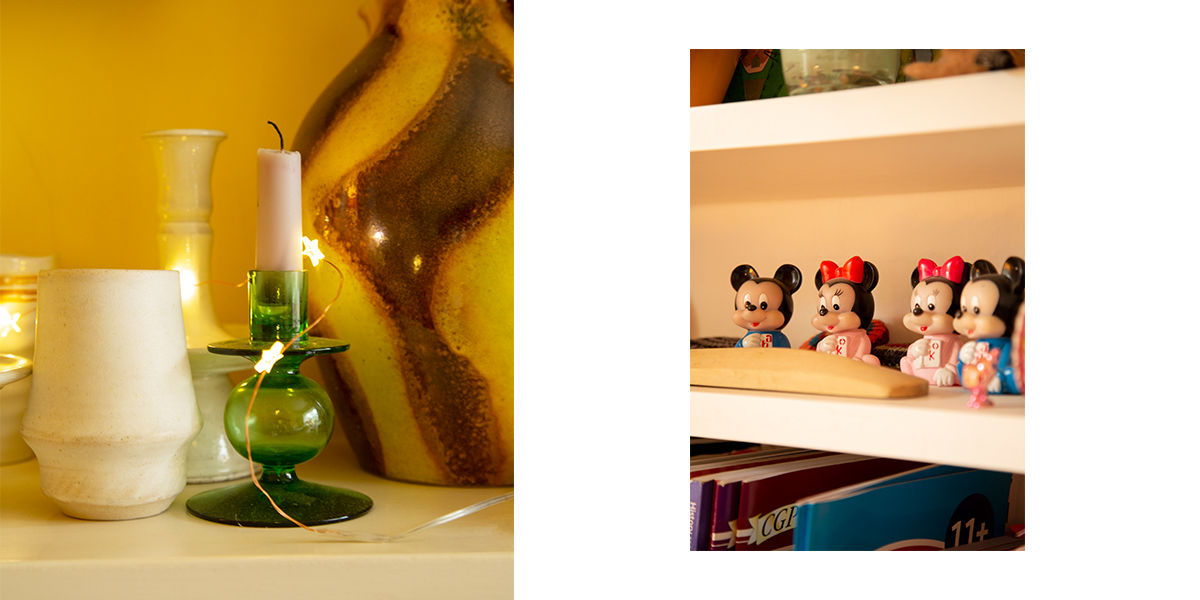 (left) One of Lucinda's homemade candlestick holders, (right) a Minnie Mouse collection
Once teas are drunk and biscuits dunked, we start to pull out the pieces from our Cosy collection to show Lucinda. She's incredibly curious, and starts wrapping herself in scarves and squishing the big, bobbly jumpers. She was immediately drawn to the 'Holiday Sweater' and 'Winter Outside' set, 'I love colour and the soft tones of these jumpers… I always like things that look slightly faded, more like old friends!'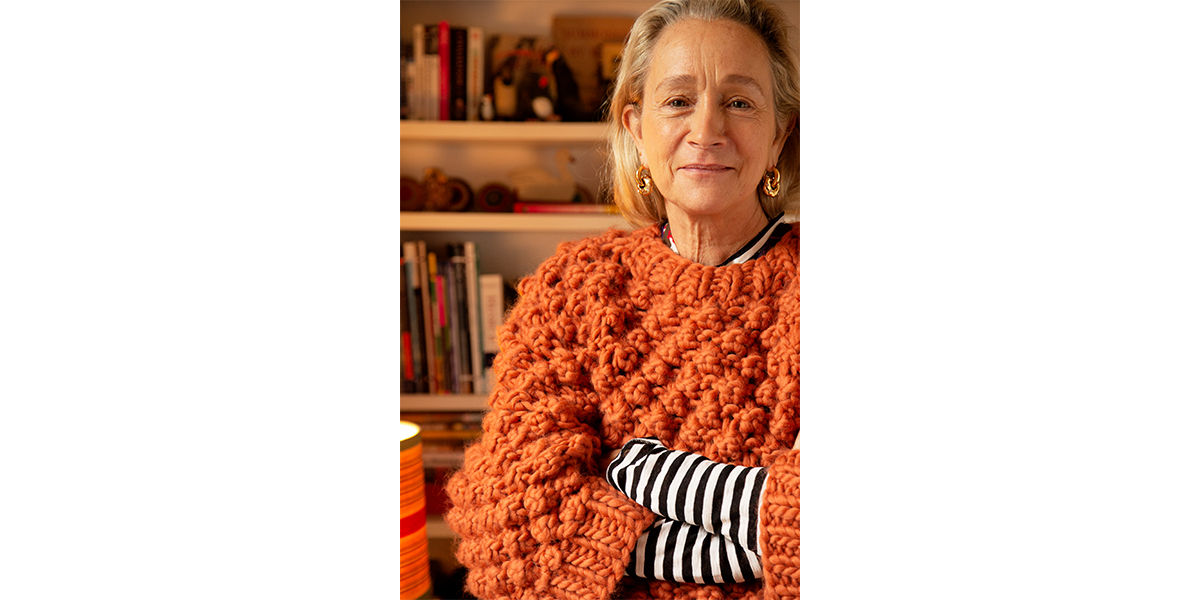 Lucinda in the Winter Wonderland sweater in Earthy Orange
Lucinda starts trying on jumpers over her incredible Colville dress, it's one of her favourites 'It's quite a loud bold print so can take colour and oddly lots of colour goes with it. The dress is called our Maggie dress and it's super simple to wear, night or day.' Once Lucinda had decided on our Crazy Sexy Wool 'Winter Wonderland' sweater, our photographer Brooke got snapping whilst we kept chatting….
We want to know how Lucinda gets cosy, she tells us she's currently obsessed with blanket coats. 'I think they are the most versatile thing for winter, you can throw them off and on, they go with anything and they're really stylish. I am also a huge fan of a long, long knitted scarf in a chunky wool.'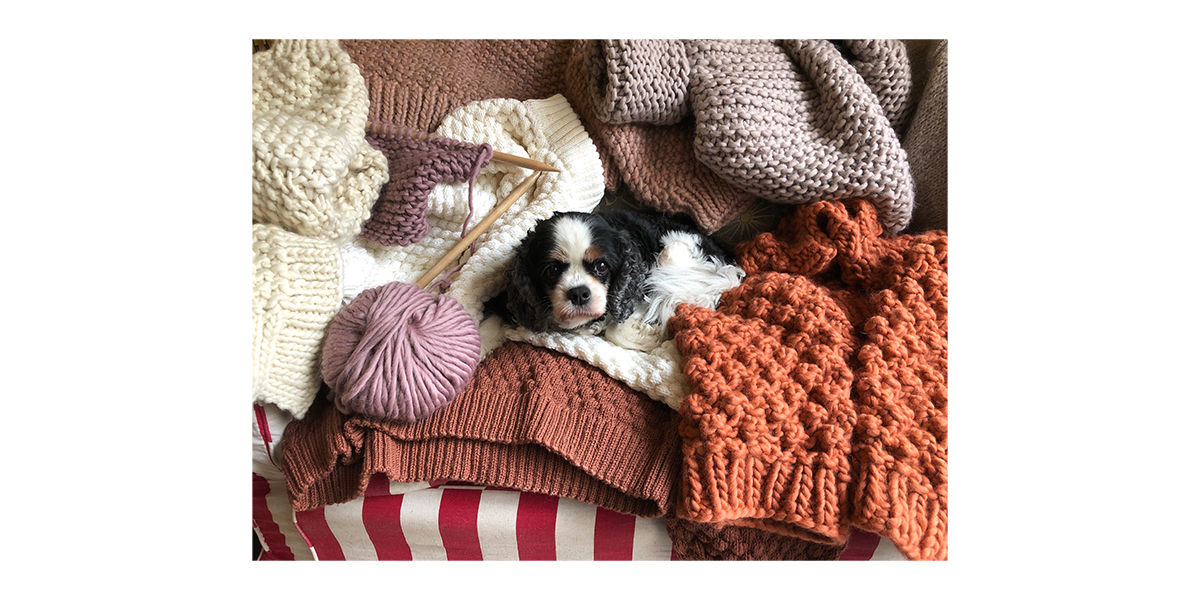 Lucinda's dog Digby, getting cosy in our new collection
And is she a knitter? 'I am a big crafty corner person. I have always loved making things. This came from my mother who made all of my clothes, and so that passed on to me and I made all of my doll's clothes, probably until a very inappropriate age! I have made mosaic tables, madly I did Knitting Nancy as a child and probably tonnes of other things that I've forgotten about.  I get huge satisfaction from making things, especially if it's out of something that would otherwise be thrown away!'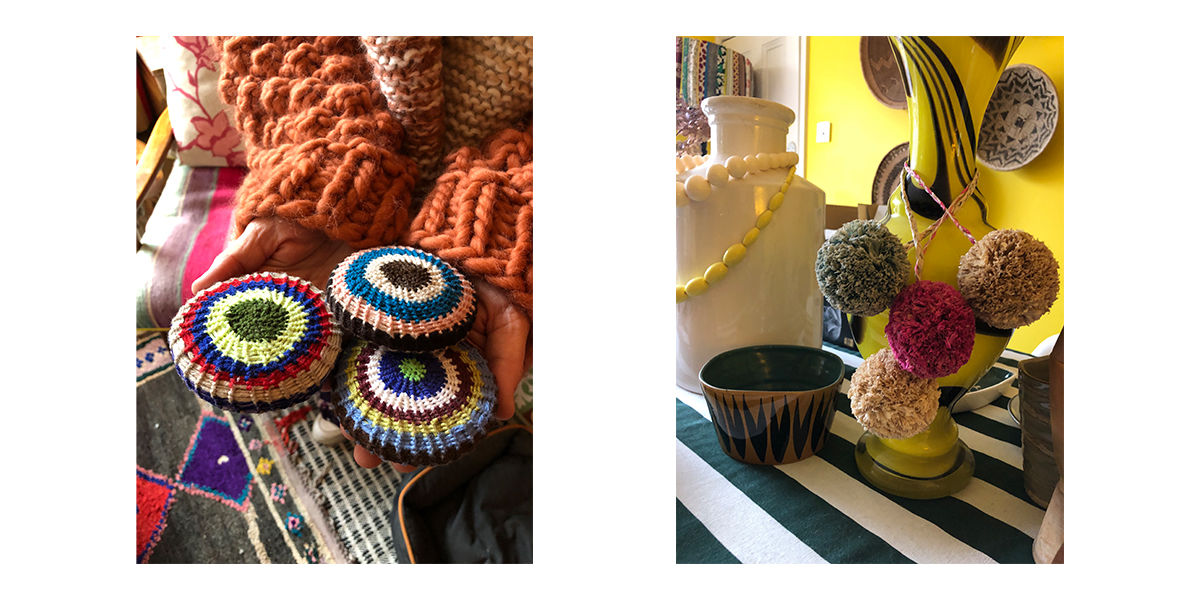 (left) Crochet coasters Lucinda bought in Morocco, (right) homemade pompoms on a vase
So, as a creative, what place does she think craft holds in the world today? 'I think Craft is hugely important now, both as an antidote to stress but also people are investing in it in a much more meaningful way. Pottery and textiles, particularly woven textiles are really interesting.' Her house of hidden treasures could be a design and craft museum, and it's clear Lucinda is truly passionate about all things artisan, 'crafts always were interesting, but now we have so many dedicated weeks to craft fairs and online tutorials so it's opened up these rather rarified worlds.'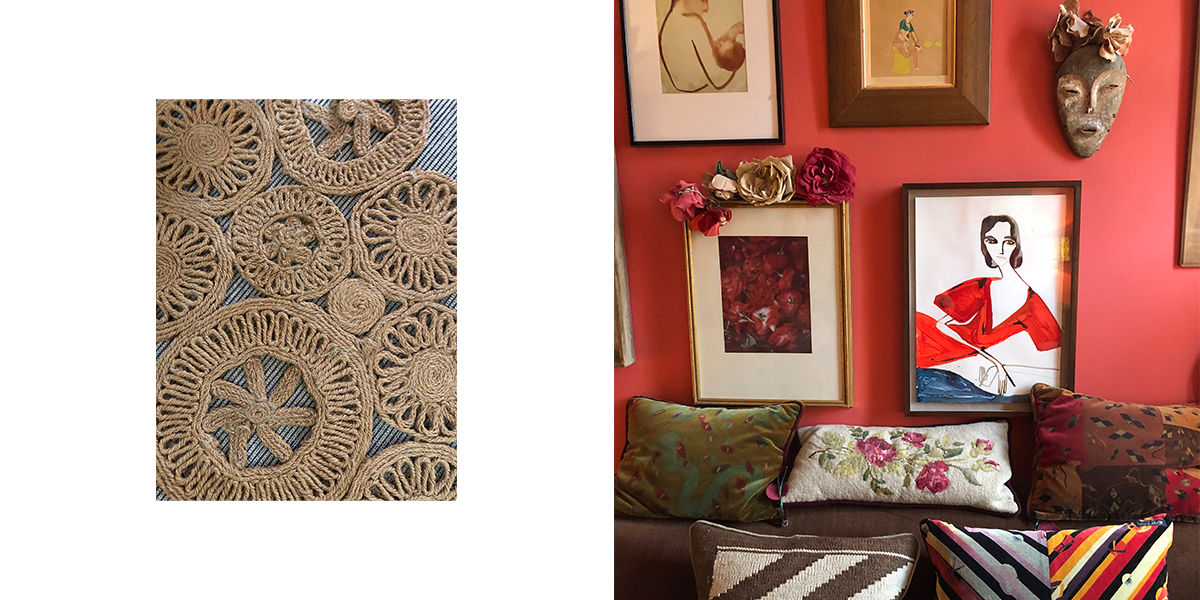 (left) Details of a woven rug on Lucinda's landing, (right) Art and cushions co-existing beautifully in the living room
We can't talk about the new world of craft without talking about sustainability. After Lucinda left Vogue, she started womenswear brand Colville with Marni designers Molly Molloy and Kristin Forss. She says 'we are always looking out for ways to make Colville more sustainable', as a small brand they are continuously working with their suppliers, and as for her new online platform: 'Collagerie goes to the heart of our "The One Thing Over Everything", which is about buying less and better with our help'.
Lucinda recently launched Collagerie with Serena Hood, a curated online platform of fashion and homeware, offering a new tailored shopping experience. 'We started Collagerie because we wanted it for ourselves.  Somewhere to shop that felt inspiring and exciting and affordable, we know that we are not alone!'. As with our ethos about the power of making things, Collagerie is founded on the premise that if you find something really special that you connect with, you'll likely treasure it forever.
And finally, we couldn't leave without picking Lucinda's brains on her favourite knitty brands…. 'Two brands that I particularly love are Luna Del Pinal and Bite Studios. Both have a really strong aesthetic and identity as well as being very sustainable…young and dynamic. And with such a strong point of view.'
Feeling inspired by Lucinda? Shop the Cosy Collection here.
Images by Brooke Harwood.